No two jobs are the same. With meticulous planning our rail team has the versatility to adapt to unique situations that deliver efficiency, safety and reliability to our customers.
The Pod-Trak team are engineering specialists within the rail environment. With a strong core of multi-discipline services delivered with in-house capabilities, we can deliver both standalone discipline-specific and turnkey package solutions. Experienced in working on a vast range of Rail infrastructure throughout the UK & Ireland including, main line, tram line and Underground, Pod-Trak can assist with planning through delivery of all projects.
Involved with the project from start to finish
When it comes to many companies reviewing performance in rail work, it can be deemed that issues can stem from where contractors are not involved at all stages of the project. The fact that we are multi-disciplined means that the project can be worked on by the same team – reducing the potential for inefficiencies and essentially providing a cost saving to the job.
Versatile in both construction and maintenance
Our team is experienced in both construction and maintenance of the railways. With that in mind, we'll always look for a solution which improves lifespan and maintains the railways to the highest standards required.
Our services within the rail sector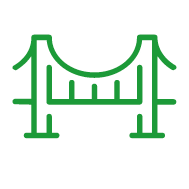 Civil Engineering
No job is the same, so our rail team is developed with the versatility to adapt to unique situations.
Design
Station Platforms, Canopies and roof repairs
Bridges
Access for all
Depots
Level Crossings
Earthworks, Embankments, Cuttings and Monitoring.
Lineside Signal, R.E.B, PSB, LOC and OLE Foundations
Substation compounds
Troughing routes
Piling
Track Drainage
Under Track Crossings (UTX)
Vegetation Clearance
Steel works
Water ingress repairs, Tunnels and Bridges
Access roads
Large Scale Project compounds
Station Car parks
Maintenance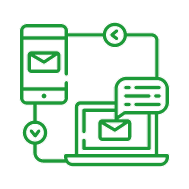 Communications
Developing leading communications systems to support the growing UK Railway infrastructure and transforming stations for the better. All our projects are supported by our Mechanical and Electrical team and can be delivered as turnkey solutions within our Civil Engineering division.
Fibre optic network installation and testing, radio systems
Global System for Mobile Communications – Railway (GSMR) Installation
4G communications networks and Supervisory control and data acquisition (SCADA) control projects
Station upgrade works, which includes passenger information displays, passenger alarms, CCTV and Public Address systems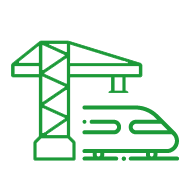 Railway Electrification
Pod-Trak is equipped to deliver electrification works as part of the sector's work on both Overhead Line and Third Rail systems to decarbonise the railway.
We've worked on some of the UK's biggest electrification projects – and with our large plant fleet readily available, we're able to complete the work efficiently and cost-effectively.
Installation
Maintenance
Renewals
Testing and commissioning
Feeder stations & systems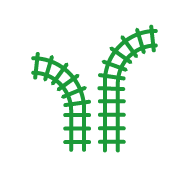 Permanent Way
Our Permanent Way team has the skills to help you increase capacity, reliability and safety.
Plain line works
Switch and Crossing (S&C) works
Track maintenance
Renewal works
Survey works
Dilapidation reports
Maintenance regimes
Track monitoring
Case Studies