Graduate Bid Assistant
Location: Manchester, London
Salary: Competitive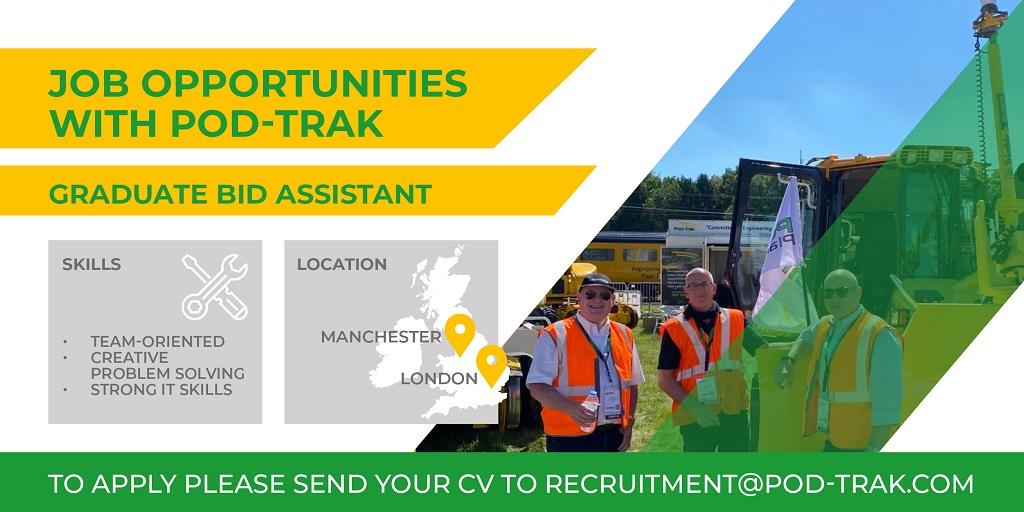 Applicate details required:
Must be a team-oriented person with a "can do" attitude
Have excellent written and verbal communication skills in English.
Be able to adopt a methodical and creative approach to resolving queries, whilst being organised and able to time manage workload.
Maintaining professionalism and an ability to work flexibly when dealing with multiple requests simultaneously.
Must have strong IT and digital skills including the use of Microsoft Office (Word, Excel etc), Adobe, InDesign to ensure that a professional document/submission is produced.
Be able to work effectively with multiple colleagues and/or other stakeholders to give or find information to resolve problems.
Can work using own initiative and work independently as required but understand the level of responsibility within the team and be able to recognise and ask for assistance when required.
Have interest in the built environment, including but not limited to Railway, Aviation and Civils projects.
Be able to produce accurate and concise reports, alongside the ability to develop and project a positive image of Pod-Trak in person, over the phone or in writing.
Bachelors' degree
Job Role:
Support the Bid Team and Business Development functions on concurrent bid submissions and PQQ's by supporting, formatting, and publishing high quality bespoke bid documentation and proposals incorporating all current Pod-Trak Statements and Standards in a timely manner to allow sufficient time for quality editing/review and delivery to clients.
Offer creative ideas to the bid preparation process.
Support Business Development strategies in the region including researching the market for new opportunities.
Support the production of pre-qualification questionnaires  
Draft and type bid materials as directed by the Bid Team, including proofing elements of a bid and redrafting/reformatting others.
Support delivery of completed documents to clients etc.
Assist in the upkeep of the Bid Library
Access and download tender documentation via client's online portals and distribute to key Bid team members, check live bid portals, and update the bid team.
Liaise with operations personnel to update and format CV's in line with specific bid requirements and produce Project Org Charts.
Liaise with suppliers to obtain information/CV's to support bids.
Assist with the preparation of meetings and produce minutes.
Assist with the preparation of bid presentations.
Assist in the co-ordination sub-contract/supply chain enquiries as required by the Estimator.
Assist with the development of (and present to the Bid Manager for approval) information including technical responses, staffing and administration structures for bid/PQQ preparation.
Follow core business systems and policies throughout your area of responsibility
Ability to work on multiple bidding opportunities at once and meet stringent deadlines.
Development Opportunities
Role knowledge and expertise through continual professional development
Work with other department to obtain an understanding of different organisational departments and functions
Offer of Mentoring from a Senior Member of the Team
Career progression
You can view more about what our current Students and Graduates say about Pod-Trak here.